The must do's
The Chalet du Beaufortain is ideally located to visit the most beautiful sites in the area. There is a real cultural heritage, typical villages and interesting ancestral agricultural traditions to discover (cheeses, woodworking...) in Hauteluce (12 km), Beaufort (13 km) and the classified village of Boudin.
Espace diamant
FOR THE SKI FANS
The Espace Diamant is ideal for all forms of ski, thanks to a particularly good and abundant snow cover. It offers nearly 200 km of alpine skiing on a pleasant, sunny and panoramic mountain at Les Saisies. The Nordic ski area is one of the best in Europe. The snowshoeing and walking opportunities are remarkable.
Panorama
FOR FANS OF NATURE
The most beautiful panorama in the vicinity (6 km from the Chalet) is undoubtedly Bisanne (1941 m), rated 2 stars in the Michelin Green Guide. In winter as well as in summer, the itinerary towards the Véry pass, of incomparable beauty, is accessible to all and leads to the Aiguille Croche, the Mont Joly (sites classified 3 stars in the Michelin Guide) and Megève. Le Cormet de Roselend (38 km away), with its sumptuous lake, opens the doors to one of the most beautiful sites in Savoie, between Mont Blanc and Tarentaise. It is a starting point for exceptional hikes (Lake of Love, the City of Glaciers on the Tour du Mont Blanc to Italy).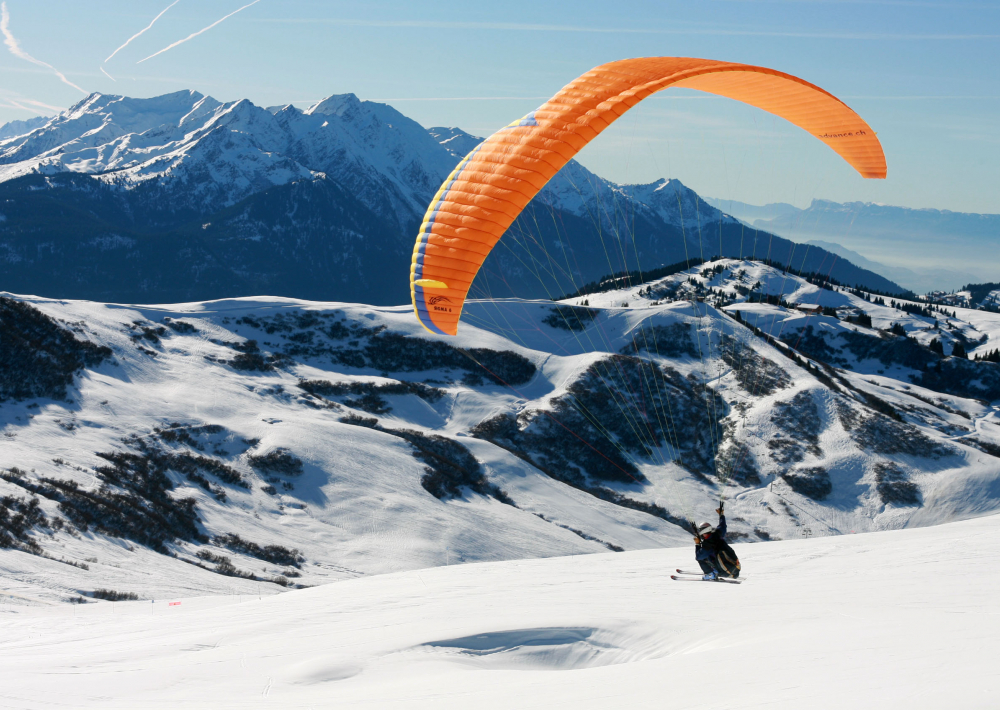 Paragliding
RATHER STRONG SENSATIONS?
You may have discovered it through the "Intouchable" movie, we have a unique activity near the chalet: paragliding. Discover Beaufortain in an unforgettable way for more than an hour, depending on the wind. Let yourself be carried and admire.
AND MANY OTHER ACTIVITIES
Because at the Chalet du Beaufortain we want you to live unforgettable moments. We will guide you through many activities. Upon arrival, we provide you with a welcome brochure including the best plans of the area. We also exchange a lot.. Don't hesitate to ask and we will advise you on the activities that fit your needs best.
Sled dog

Cross-country skiing

Mountain biking
Convinced?
Click on the link
Book